Fantasy Golf Livingston
BACK
Views

(1259)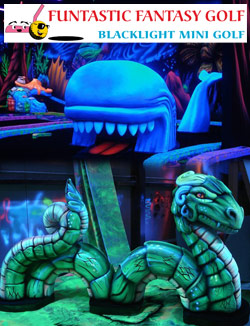 Welcome to Scotland's only blacklight mini golf! This is an exciting twist to the traditional mini-golf ,this is glow in the dark adventure golf.
The courses have been designed and created with amazing cool and quirky artwork and hand sculpted props,all painted with photoluminescent paint that reacts under the ultra violet light(blacklight) to create the neon glow in the dark properties.if you have never been,come and see for yourself the unique  and fun way to experience adventure golf.
We have been operating since 2011 and are livingstons original adventure golf.
we do parties kids and adults alike.corporate hospitality,functions,fundraising.
we have a cafe which serves fresh bean to cup coffee,lattes,soft drinks.tea.snacks.
our staff are friendly and engaging.we offer the cheapest on door pricing of any adventure golf in scotland.we have free parking.our course is fully wheelchair/buggy      accessable.we dont charge for children 3 and under.if you decide to do the 18 holes     and you want to go around again ,you can,free.don't go anywhere else.